Audio systems for all environments
Whether you need music systems for retail, licensed or catering premises, or a public address system for a function room, hall, warehouse or even external use, with our years of experience we can design, supply & install the perfect audio system to match your requirements.
Audio Induction Loops

Audio induction loop systems, also known as audio-frequency induction loops (AFILs) or hearing loops, are an aid for the hard of hearing.
If you are responsible for publicly accessible facilities, you might be aware of the relatively new legislation regarding the provision of induction loops for the benefit of people with hearing aids.
These systems can be connected to existing or added to new PA systems. The individual hearing aids can then be switched to pick up the enhanced sound.
Offices & Meeting Rooms
The use of Audio Visual equipment in the work place can really add value to your meetings/conferences and it doesn't necessarily cost as much as you might think.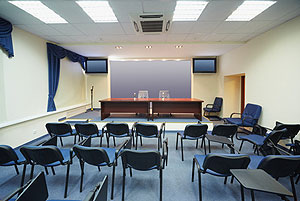 Whether you need front/rear projectors, Plasma TV's, audio systems or even mood lighting to set the tone for your meetings, we can provide the ideal solution.